President

Dan Wilson
PHILLIP MURRAY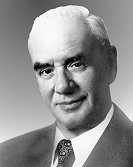 Phillip Murray is recognized as one of the foremost influential labor leaders of the 20th century. Murray, who helped found the United Steelworkers was also its first President serving in that capacity from 1942 to 1952. Prior to his involvement with the Steelworkers he served as Vice President of the United Mine Workers. Then he broke away from the UMW to help create and preside over the Congress of Industrial Organizations prior to its merger with the American Federation of Labor (AFL-CIO). As a lifelong labor activist and prolific union organizer he paved the way to advancements in worker safety, shorter workdays, livable wages and fair treatment for millions of American workers.

PHILLIP MURRAY SCHOLLARSHIPS
Because Phillip Murray understood the importance of education, each year scholarships honoring his name are awarded to the sons and daughters of active Steelworkers. Applications are now available at the union hall for the 2014 scholarship program. Each scholarship is worth $1,500 and can be applied to the first year of any 4-year college or university. Completed applications must be post marked no later than April 15. If you have a high school senior in your family who's planning to go to college, stop by the union hall during normal business hours to get an application. If you have any questions give me a call.



The latest anti-worker anti-consumer anti-American trade agreement being considered by Congress is the Trans Pacific Partnership referred to as TPP. Fast Tracking of this trade agreement will undermine our national security and off-shore more of our work to eleven Pacific Rim nations. The proposed treaty is being negotiated behind closed doors and if approved will mean the loss of American manufacturing jobs. Congress should be focusing on ways to preserve and create jobs not eliminate them. One way to create jobs would be for our federal, state, county, and municipal governments to buy American whenever making infrastructure upgrades. Over the past three decades our infrastructure, made up of surface transportation, water, sewer, power grid, and communications systems, has slipped on a global scale from first place to fourteenth. Fixing our deteriorating infrastructure will make us more competitive and help sustain long-term economic development, productivity, and international competitiveness. Call your congressman today and tell them to vote NO on the Trans Pacific Partnership and YES when purchasing American made materials and equipment for infrastructure projects. If you live in Eastern Washington please take a few minutes to call each of your congressmen listed below:
Senator Cantwell (202) 224-3441
Representative McMorris Rogers (202)225-2006
Senator Murray (202)224-0238.
Dan Wilson
President Local 338