Union News...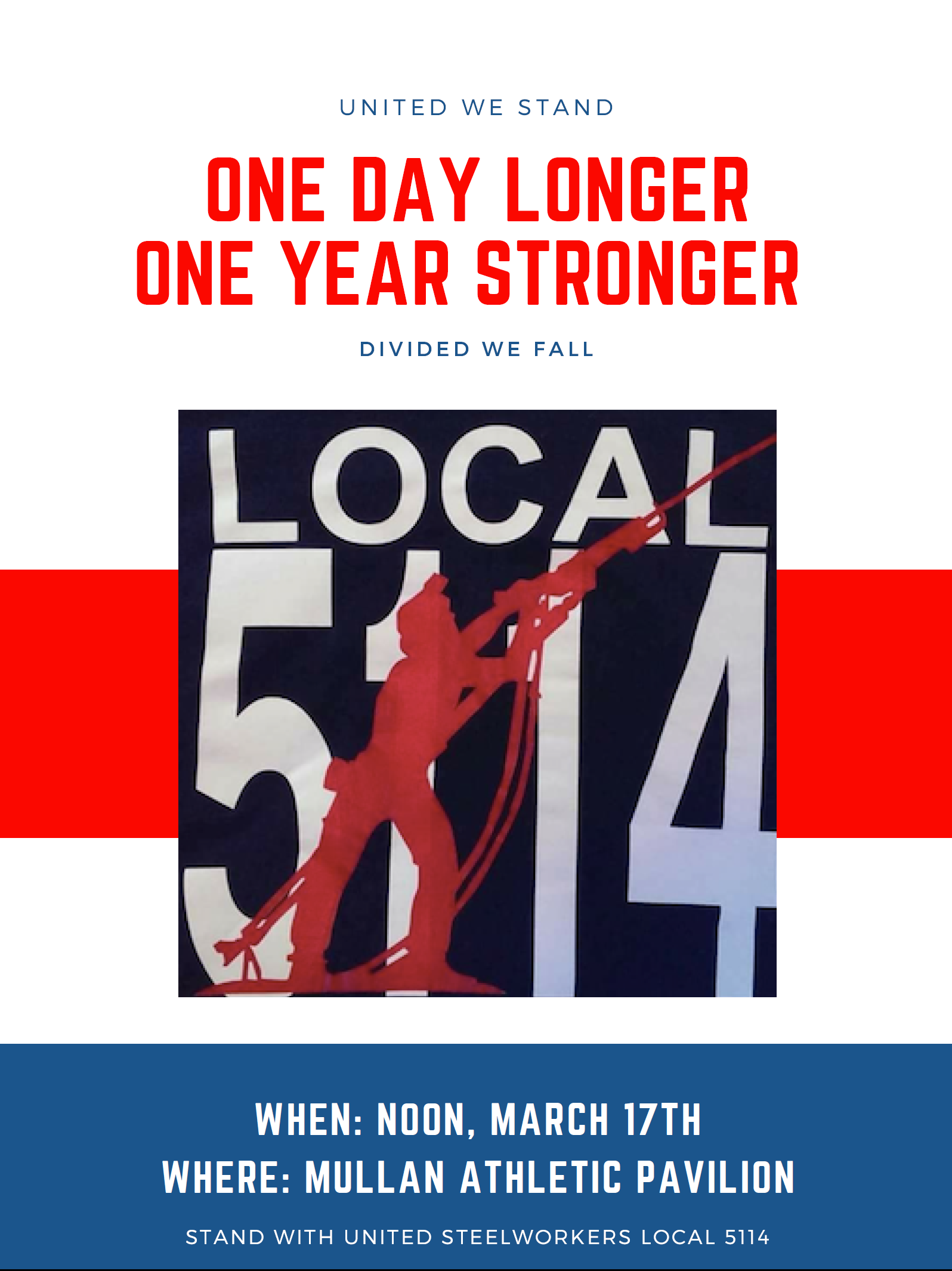 2018 PHILIP MURRAY SCHOLARSHIPS
Applications are available now at the union hall for the 2018 Philip Murray Scholarship Program. Scholarships are worth $1,500 and can be applied to the first year of any 4-year college or university. These scholarships are available to sons and daughters of active Steelworkers. Completed applications must be post marked no later than April 15. If you have a high school senior in your family who's planning to go to college next year, be sure to pickup an application here at the union hall.Click here for application

NOTICE OF 2018 ELECTIONS

Elections will be held on April 16th & 17th between the hours of 6 am and 8 pm at the Local Union Hall, 14015 E. Trent Avenue, Spokane Valley, Washington. For more information call 924-2650.

Per the USW Local Union Elections Rules, absentee ballots will be available for special circumstances upon request from the Local 338 Elections Committee. For more information on absentee ballots call (509) 924-2650.

Dan Wilson – President, United Steelworkers Local 338



PENSION BENEFITS
If you have questions regarding your pension benefits and surviving spouse options please contact the Union Hall at 924-2650.



UPDATING YOUR BENEFICIARY
Have you taken time to update your current beneficiary? Keeping your intended beneficiary updated will ensure that the person you want to receive your benefits if something were to happen to you will receive them. There are beneficiary statements for your $54,000 life insurance policy through Kaiser, Fidelity Mutual 401k, Pension benefits through the Steelworker Pension Trust (SPT), and if you were employed by Kaiser Aluminum prior to April 30, 2004 the Pension Benefit Guarantee Corporation (PBGC).

To update your beneficiary statements, you can call the following phone numbers:

Kaiser Aluminum 927-6427
SPT 1-800-848-1953
Fidelity Mutual 1-800-835-5095
PBGC 1-800-400-7242 Case #19737000


QUALIFYING EVENTS
Have you had any recent changes in your dependent's status? A "Qualifying Event" is a change in dependent status that could include a death, birth, divorce, marriage, adoption etc. Under the IRS federal guidelines you must notify the Company within 30 days of any dependent changes. Failure to notify the Company could result in new dependents not having medical, prescription, vision, or dental coverage until January of 2018. To notify the Company of any change call Donna Schrader at Extension 6427.